Event Location
Hilton Garden Inn - Charleston Airport
5265 International Boulevard
North Charleston, SC 29418
United States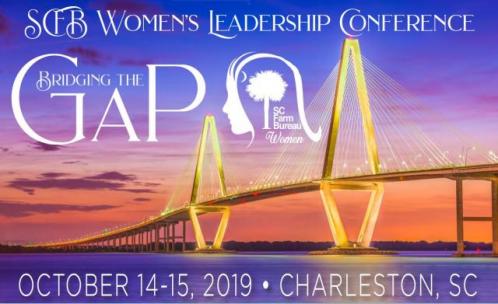 "Bridge the Gap" and learn how to become stronger advocates and educators for agriculture at the 2019 Women's Leadership Conference, October 14 - 15 in Charleston, SC.
The conference begins on Monday, October 14, with registration between 9 and 10 am and will conclude with an optional post-conference tour on Tuesday to Mepkin Abbey and Cypress Gardens. The tour should wrap up with plenty of time to shop at the nearby Tanger Outlets.
We are excited to welcome our featured speaker Ashley Weston, owner of Hidden Truth Jewelry, specializing in handmade Christian jewelry.  District Caucuses will be held again during the conference so all counties are encouraged to attend. Rotating workshops will include sessions on a variety of topics. 
The banquet theme this year is Southern Belle Best, so bring your your most dazzling hats, gloves and jewels.
Please submit the registration form by September 16.  A form is required for each attendee. All Farm Bureau women are welcome to attend, so invite someone new! 
As usual, we ask that each county bring a door prize with a recommended value of $10. 
We look forward to having women from every county participate as we promote Farm Bureau and agriculture.  If you have any questions, please feel free to contact Elizabeth Wood at 803-936-4249 or ewood@scfb.org  or Melanie Moulder at 803-936-4409 or mmoulder@scfb.org.
Back to Events