The Duke Energy Foundation has awarded an additional $20,000 to South Carolina Ag in the Classroom supporting the Ag Learning Lab program. The grant provides scholarships for qualifying schools within the Duke Energy service areas to reserve the Ag Learning Lab free of charge and builds on an initial $20,000 that helped launch this scholarship program.
SC Ag in the Classroom's Ag Learning Lab is an educational experience that brings the farm to school. Students in grades K-8 who visit the lab learn about important South Carolina commodities and how many of them go from the field to their plate. The lessons are aligned to state learning standards, so students can apply math, science, English and social studies principles to agriculture. Students see first-hand the importance of agriculture in providing food, fuel and fiber.
"We are excited about this continued partnership with Duke Energy," said Harry Ott, South Carolina Farm Bureau Federation President. "Through their foundation, they are investing in our local communities and providing an exceptional opportunity for students to learn more about where their food comes from."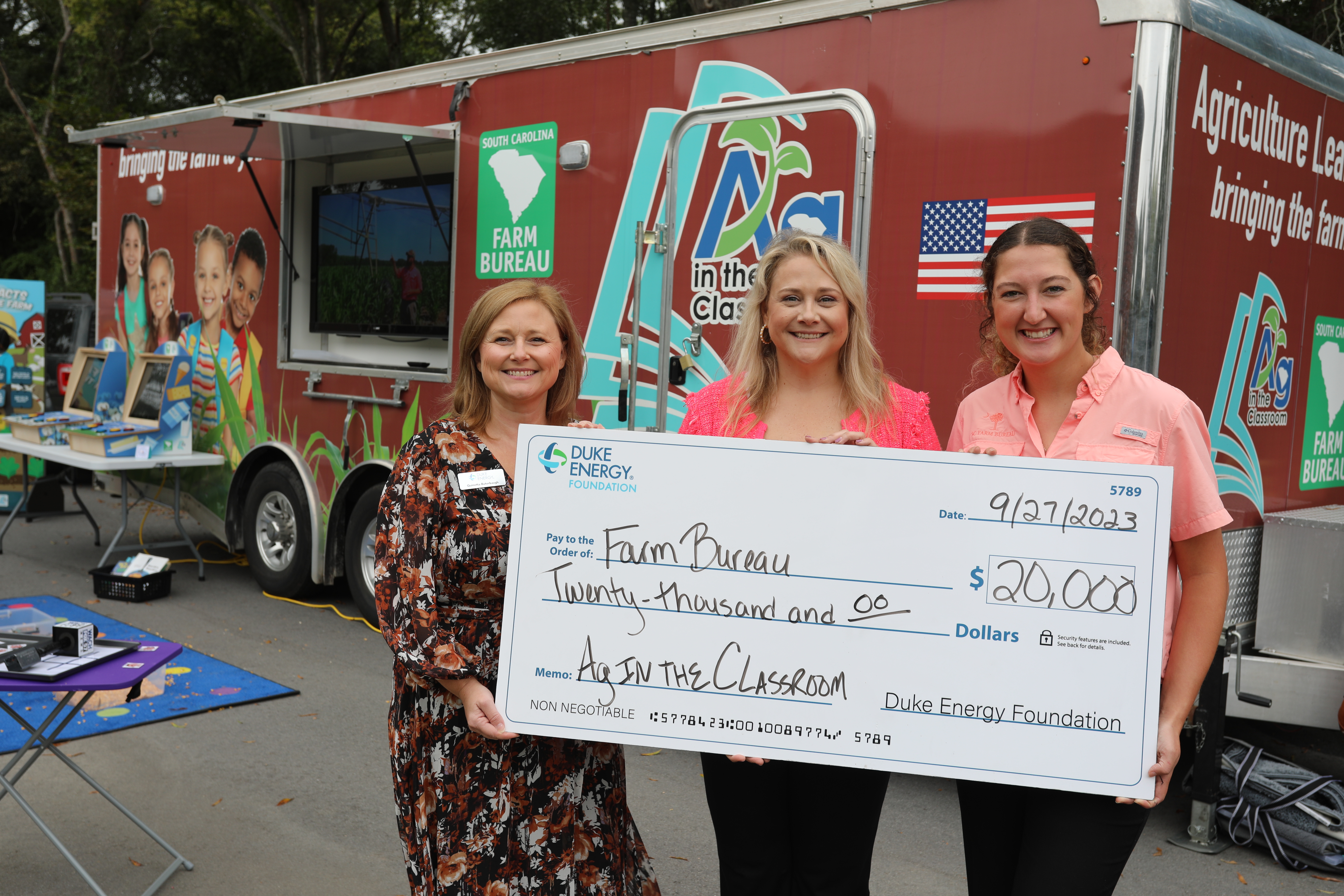 This is the second grant awarded to AITC from the Duke Energy Foundation. The first grant, awarded in March 2020, helped bring the mobile lab to fifty schools in the Duke service area.
"Agribusiness is South Carolina's top industry, and Duke Energy is proud to power thousands of family and commercial farms and related businesses across the state," said Quinetta Buterbaugh, government and community relations manager for Duke Energy. "It's important for the next generation of consumers to have a connection to the land that feeds them and how important that process is to our everyday lives. The Ag Learning Lab is a fantastic tool that helps make that connection."
The Ag Learning Lab accommodates between five and eight elementary or middle school classes per day. An AITC certified teacher accompanies the trailer to lead students in engaging, hands-on learning experiments. Funding from the grant is available to schools located in the Duke Energy service area with a population of at least 60 percent free-and-reduced lunch.
For more information about Ag in the Classroom and to reserve the Ag Learning Lab, visit www.scfb.org/aglab.
Ag in the Classroom is a non-profit, 501©3 education foundation created to promote awareness and recognition of the importance of the sources of our food and fiber.
South Carolina Farm Bureau is a grassroots, non-profit organization that celebrates and supports family farmers, locally grown food and our rural lands through legislative advocacy, education and community outreach. The organization, founded in 1944, serves nearly 90,000 member families in 47 chapters. For more information, please visit www.scfb.org.
Back to Newsroom