State YF&R Committee
Young farmers shaping the agriculture of today and tomorrow
The State Young Farmer and Rancher Committee is made up of no more than sixteen young adults who are appointed by the SCFB President for two-year terms. Representation on the committee may be single young farmers or married couples.  Each district is represented by two couples or single young farmers. Committee members work hard to plan programming that will engage South Carolina farmers, ranchers, agriculturalists, agribusiness professionals and ag-enthusiasts between the ages of 18-35. Furthermore, committee involvement is an exciting leadership development opportunity for aspiring leaders of the SC Farm Bureau family.
The State Committee follows these practices:
5 Leadership Practices: Step up, Link up, Team up, Show up and Speak up
3 Development Practices: Learn it, Grow it, Do it
State Committee members have a series of structured meetings and events that they participate in annually, as well as eight (8) self-directed activities that incorporate local government, community, Farm Bureau, Ag Diversity, and Ag Involvement. 
If you are a young farmer or rancher between the ages of 18 and 35 with an interest in growing as a leader in agriculture, please contact your County Farm Bureau President and express your interest in serving on the State YF&R Committee. County Presidents are responsible for nominating members to serve.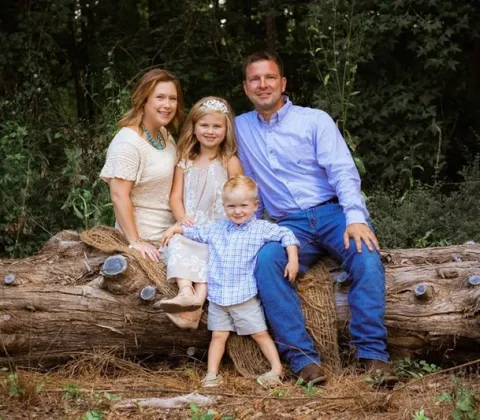 Pee Dee District
Chris and Alisha Stevens
Chris and Alisha, of Horry-Loris, have a cattle farm and grow hay and annual forages, grains to sell for feed, and do custom work round baling for other local farmers. They are raising their two children to be the next generation on their farm. Chris currently serves as the Chair of the YF&R Committee.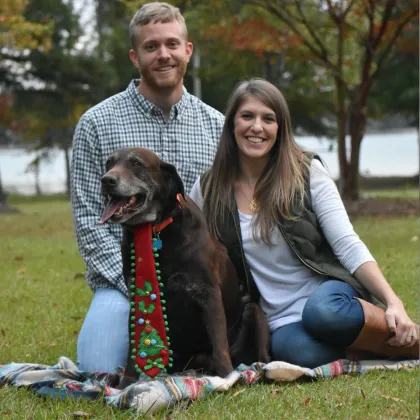 Central District
Justin and Kesler Ballew
Justin and Kesler live in Irmo, SC with their 10 year old chocolate lab, Thomas. Justin is a Horticulture Agent with Clemson Extension, working with commercial fruit and vegetable growers across the midlands. Kesler is a QA Specialist with Travel Nurse Across America. They enjoy the outdoors, traveling and spending time with family and friends.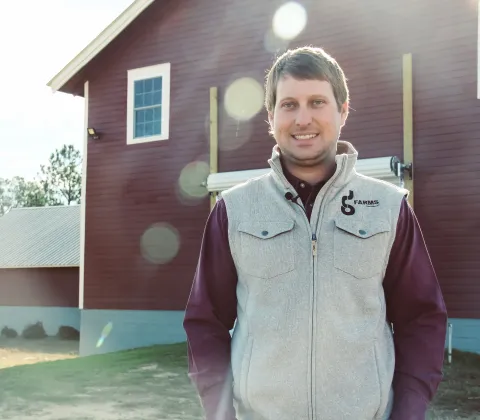 Coastal District
Joe Oswald
Joe is a fourth-generation farmer in Allendale. He farms along with his dad and brother on JCO Farm where they grow corn, soybeans, cotton, peanuts, winter grains and raise cattle. Joe is focused on conservation and used variable rate technology to map the farm allowing him to make precise decisions about how much water and fertilizer his crops need.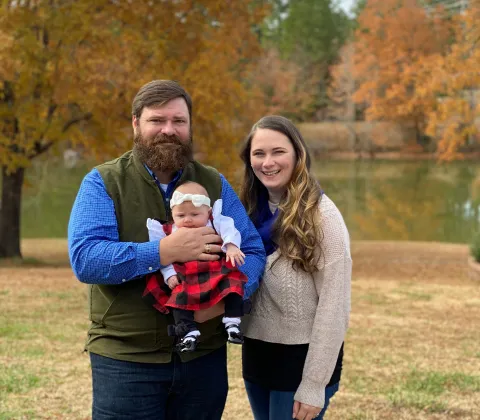 Central District
Adrian & Brooke Wilkes
Adrian and Brooke live in Fairfield County, where they operate an industrial hemp farm and greenhouse company. Brooke works full time as a paralegal and Adrian is a lawyer. Adrian serves on the Fairfield County Farm Bureau Board of Directors. Adrian and Brooke are both very active in their local church, and are happy raising their baby daughter, Hazel.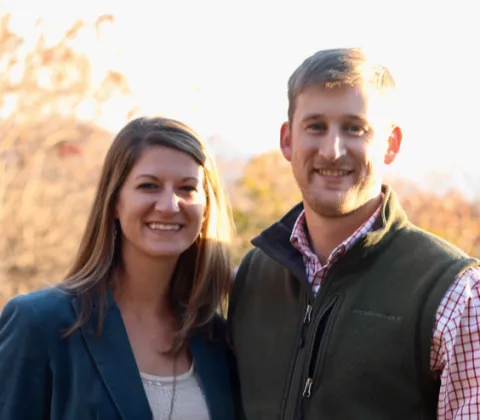 Piedmont District
Chris & Cassie LeMaster
Chris and Cassie, of Cherokee, raise stocker cattle and grow hay for the equine community. They both work full time as Clemson Extension Agents, specializing in Livestock. Chris serves as Cherokee County YF&R Chair and Cassie is a member of the State Farm Bureau Equine Advisory Committee.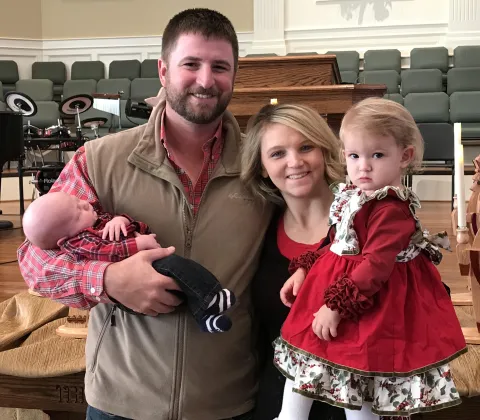 Piedmont District
Clay and Emily Alexander
Clay and Emily raise beef cattle on their farm, Weems Creek Cattle Company, in Anderson county. They recently partnered with Brasstown Beef to bring their products from the farm to market. Clay also works for Genex Beef and Southeast Agriseeds. Emily is a registered nurse whose current job is part-time cow hand, part-time secretary and full-time mom. They're raising their two children to love the farm life.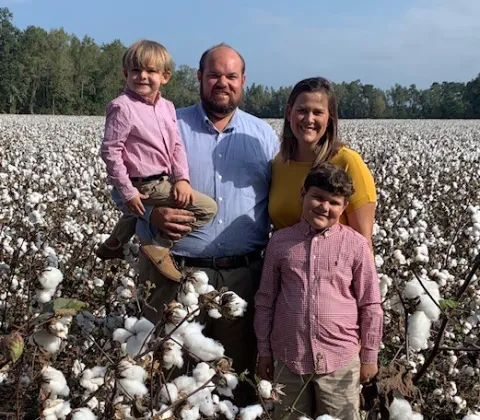 Coastal District
Kara & Trent Pendarvis
Kara and Trent live in Harleyville, SC where they grow row crops and hemp, and have the Pendarvis Farms Corn Maze every fall. Trent works full time on the farm, and Kara is an English teacher. Kara is the Dorchester County YF&R Chair, and Trent is on the SCFB Hemp Advisory Board. They have two boys that enjoy growing up on the farm.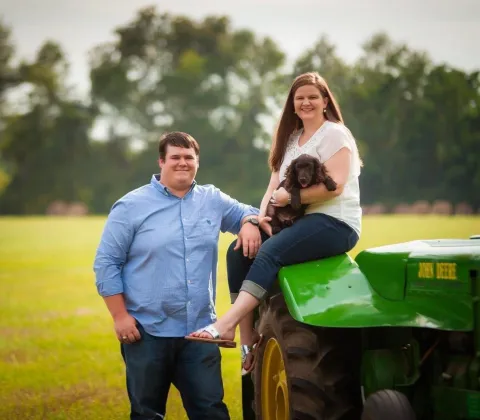 Pee Dee District
Caleb & Kate Miller
Caleb and Kate Miller of Dillon, live and work on a row crop farm. Caleb farms full time, farming cotton, corn, wheat, soybeans and peanuts. Kate works full time as an Inpatient Clinical Pharmacist. Kate is the Dillon County Women's Chair as well as the Membership Co-Chair, and Caleb is the Dillon County YF&R Chair. They are both every active in their church, teaching Sunday school at Latta Baptist Church.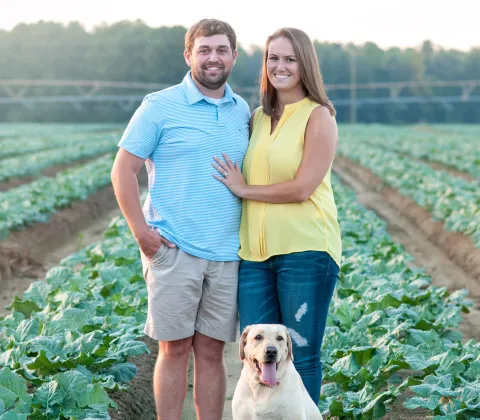 AFBF Representatives
Dean & Sara Hutto
Dean and Sara are newly appointed to the AFBF YF&R Committee. They live in Orangeburg, SC with their dog, Diamond. Dean is a seventh-generation row crop farmer who now also grows bell peppers and broccoli. Dean serves as the President of the Orangeburg County Farm Bureau Board of Directors. Sara is a full-time nurse at Regional Medical Center and serves on the State Women's Committee.