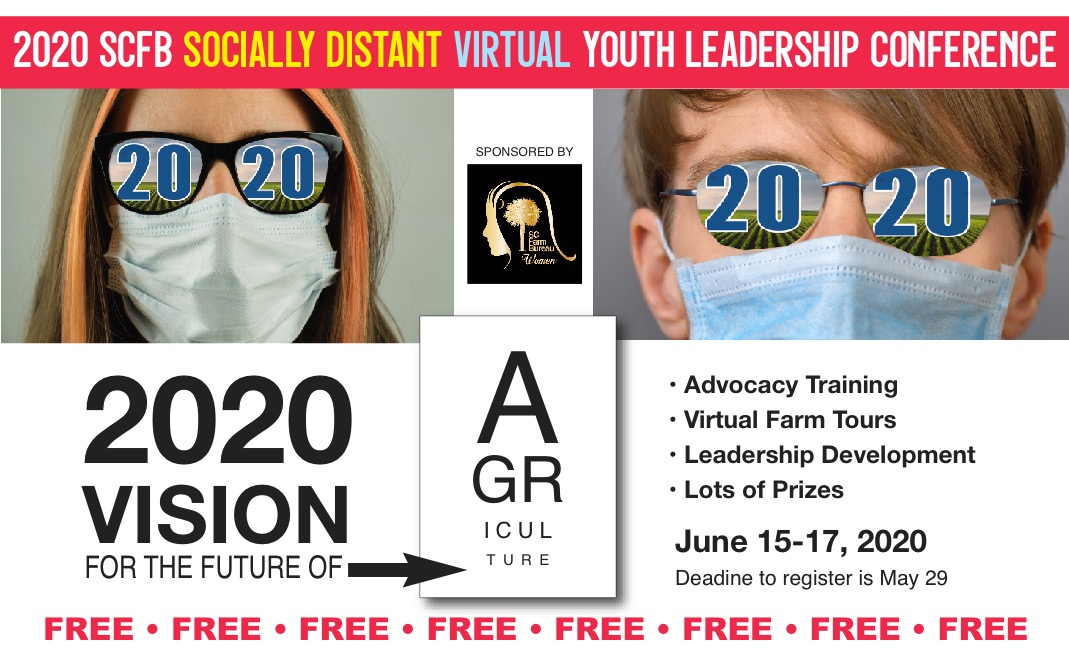 It's virtually impossible to ruin our summer plans! Due to COVID-19 concerns and restrictions the Youth Learning Institute has placed on summer camps, we are hosting the first ever virtual Youth Leadership program. Join Farm Bureau staff for three online sessions, June 15-17, to enhance your leadership skills, learn more about agriculture in South Carolina and connect with other high schools students across the state. There will be one session each day that will last 2-3 hours and we will connect with students through the online video platform, Zoom. Participants will receive all materials needed through the mail prior to Youth Leadership. There will be daily prizes for participation and one lucky student with perfect attendance will win a FREE trip to Washington, DC this fall. Attendees will also have the opportunity to travel to Columbia for a one-day reunion later this year.
The program is open to Farm Bureau members that are rising juniors and seniors in high school. Because of the last minute changes,  counties can sign as many students up as they would like (there is not a 4 student limit) and the program is FREE. The deadline to register is May 29. Students will need a computer or tablet with internet access to participate. The Youth Leadership Conference is sponsored by the Women's Leadership Committee.
See you this summer at Youth Leadership as we set the 2020 Vision for the Future of Agriculture!
Click here to download the application.
The deadline to register is May 29.