SC Ladies & Gents Love to Cook! 
Enjoy our compilation of over 600 mouth-watering recipes submitted by the South Carolina Farm Bureau members. Proceeds from the sale of our cookbooks fund Ag in the Classroom and projects to promote the awareness and recognition of the importance of our food and fiber sources.
Sample Recipe

Butter Pecan Tarts
1 cup light brown sugar
1/2 cup all-purpose flour
2 eggs, beaten
1 stick salted butter, melted
1 cup chopped pecans
1/2 teaspoon vanilla flavoring
Preheat oven to 350 degrees. Mix all ingredients in a bowl with a wooden spoon. Spoon into greased mini-muffin tins or paper lined mini-muffin tins. Fill each cup two thirds full. Garnish each muffin with a pecan half, if desired. Bake 12-14 minutes.
Hint: The secret to this rich flavor is using real butter!
Yield: 2 1/2 to 3 dozen

The Golden Taste of South Carolina, South Carolina Farm Bureau's 50th Anniversary Cookbook, is also available once again.
Sample Recipe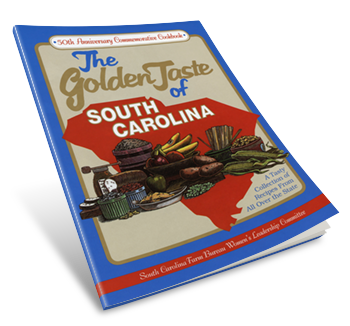 Glorified Pork Chops
6 (½ inch thick) pork chops
1 medium-sized onion, sliced
1 tablespoon vegetable oil
1 (10 ¾ ounce) can cream of mushroom soup, undiluted
¼ cup water
Sear chops and onion in oil in a skillet over medium heat for 10 minutes, turning to brown chops on both sides.  Drain excess grease.  Add soup and water. Simmer, covered, for 10 minutes or until chops are fork tender, stirring occasionally.
Yield:  6 servings