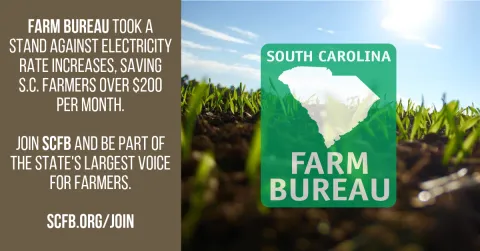 The South Carolina Public Service Commission issued a ruling on Duke Energy Progress' proposed rate increase on Tuesday. South Carolina Farm Bureau President Harry Ott and other Farm Bureau members testified during the hearings in April to ensure farmers' voices were heard.
The ruling instructs Duke Energy to implement a fair rate increase across all categories of electric service. For certain farmers, this means avoiding nearly a 200% rate increase per meter.
In a request to the SCPSC submitted late in 2018, Duke Energy Progress proposed rate increases for their customers in the Upstate and Pee Dee regions of the State. All classes of service would see rate increases; however, the classes that encompasses most agricultural users – Small and Medium General Service– would be burdened with the highest overall base meter rate. Small General Service customers would see a proposed increase of 193% and Medium General Service faced a 133% increase per meter. Most farms have multiple meters to power their barns and irrigation equipment, leaving them to face a significant cost increase for electricity.
"These rate increases would be unfairly shouldered by our farmers who are already facing difficult financial times," said South Carolina Farm Bureau President Harry Ott. "Farmers could pay hundreds of dollars more each month if the proposed rate increase passes."
Following compelling testimony by SCFB President Harry Ott and other Farm Bureau members, the SCPSC sent a clear message that Duke Energy should try to work with farmers. Duke agreed to limit the base meter increase for Small General Services raising the rate 24.5% to $12.34 (as opposed to the initially requested 193% increase to $29.00.) Additionally, Duke agreed to reclassify a number of farm accounts to more cost-effective rate schedules and designated a special account representative to assist farmers in finding the rate schedules that were most cost-effective for them. 
In the directive issued on May 8, SCPSC Commissioners noted that they heard the needs of the agricultural community and the importance of minimizing the base rate increase. The SCPSC ruled that the Medium General Service base meter rate be increased by 24.3% to $21.35 (as opposed to the requested 133% increase to $40.03). SCPSC also directed Duke to research how it can assist and educate ratepayers, especially farmers, about ways to reduce the number of electric meters on their farms. 
"I am very pleased that the Public Service Commission and Duke Energy listened to the farmers in the Pee Dee and understood the implications of the rate increases," said President Ott. "Duke Energy is taking steps to ensure they work closely with the agricultural community, so they have access to affordable electricity."
The initial ruling by the SCPSC is a step in the right direction to ensure farmers are treated equitably and have access to the resources they need on their farms.
Back to Newsroom