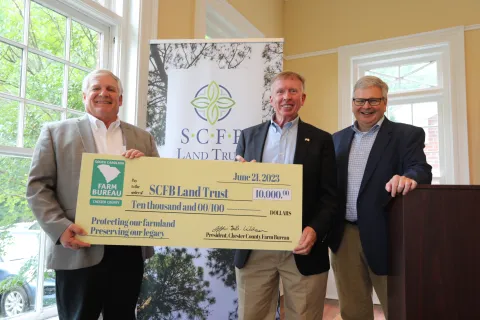 South Carolina Farm Bureau officially launched the SCFB Land Trust yesterday at an event in Lowrys. The Land Trust will focus on conserving working farmlands, ranches and forests.
"Farmers need options to protect their land and their legacy," said Harry Ott, South Carolina Farm Bureau Federation President. "We formed the Land Trust to provide an option to farmers across the state that doesn't end in their land being sold for development."
Since 2001, South Carolina has lost nearly 290,000 acres of farmland and is the third fastest growing state in the nation. If this trend continues, by 2040 South Carolina will lose another 436,700 acres of farmland – the equivalent of 3,600 farms, $239 million in economic output and 5,900 jobs. The Land Trust will help to ensure agricultural lands can be passed to future generations while providing present financial benefit.
"Farmers trust farmers," said Jeff Wilson, owner of Cotton Hills Farms located in Chester County. "The South Carolina Farm Bureau Land Trust will make it easier for farmers to protect their land, and I hope farmers will consider this as a viable solution." Chester County Farm Bureau made a $10,000 donation to aid in funding the Land Trust.
As one of the first state Farm Bureaus in the nation to launch such a program, South Carolina Farm Bureau is committed to helping farmers preserve their livelihoods that have spanned generations. The Land Trust will give agricultural landowners peace of mind knowing their land is protected and its purpose preserved.
To date, the SCFB Land Trust has already received twenty-four applications. Farmers interested in enrolling their land in the SCFB Land Trust should visit www.scfb.org/landtrust for more information.
Back to Newsroom