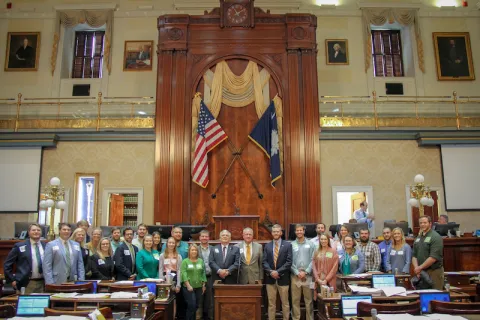 Young farmers and ranchers from across South Carolina spoke with agricultural leaders and members of the Senate and House of Representatives recently during the South Carolina Farm Bureau Federation's Young Farmers & Ranchers (YF&R) Legislative Day at the Statehouse.
The Federation's YF&R members from across the state gathered in Columbia to celebrate agriculture, the largest piece of our state's economy, and to advocate for the future of the industry. The group was introduced in both the Senate and House Chambers, and had the opportunity to speak with policymakers regarding legislation that affects agriculture in South Carolina and thank them for their support. 
"The YF&R program is all about shaping and growing the future leaders of South Carolina agriculture," said Harry Ott, SCFB President. "We want these young folks to visit with their legislators face-to-face and create that personal connection it takes to maintain positive relationships with the lawmakers who influence the decisions made about the agriculture industry in South Carolina."
"Farm Bureau is made up of a strong grassroots network and provides many opportunities, like the YF&R Day at the Statehouse, to make sure farmers' concerns are heard and successes celebrated. Visiting with lawmakers is not only a way to do that, but to also thank our legislators who have supported agriculture throughout the year."
Agribusiness is the state's largest industry generating nearly $42 billion annually and more than 212,000 jobs each year.
The SCFB Young Farmers and Ranchers Program is made up of Farm Bureau members between the ages of 18 and 35. In this agricultural leadership development program, young farmers and agribusiness professionals become a part of an active grassroots network that promotes agricultural interests in South Carolina. Click here to learn more about the YF&R program.
Back to Newsroom