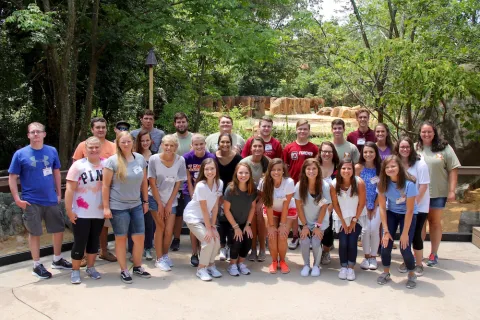 Columbia, SC – Twenty-seven rising high school juniors and seniors from across South Carolina recently participated in the South Carolina Farm Bureau Federation's (SCFB) 2018 Youth Leadership Conference in Columbia, SC.
The conference, held at Columbia's Riverbanks Zoo and Gardens July 26, allowed students to gain valuable leadership skills and a better understanding of SC agriculture and the South Carolina legislative process.
"The Youth Leadership Conference, sponsored by our SCFB Women's Leadership program, allows students to explore opportunities within agriculture while developing their skills to be leaders in the industry," SCFB Ag Literacy Director Elizabeth Wood said.
Students were addressed by industry professionals on leadership, professional development and legislative procedure in SC. Wood discussed with participants the process of South Carolina legislation and how they can become involved in policy-making. SCFB's Director of Promotion and Education, Stephanie Sox, engaged participants in leadership activities essential for students to develop personally and professionally.
2018 SCFB Youth Ambassador Devin Moore said, "Youth Leadership Conference is a great way to meet people from all across South Carolina who share a passion for agriculture. We were able to build leadership skills while expanding our network and agricultural knowledge."
"South Carolina's agricultural industry is a vital part of the state's economy," SCFB President Harry Ott said. "We advocate so our children and grandchildren can farm long after we are gone. Educating our youth on opportunities available to them within the agriculture industry is the first step in involving students so they can have a lasting voice in today's issues."
SCFB is a grassroots, non-profit organization that celebrates and supports family farmers, locally grown food and our rural lands through legislative advocacy, education and community outreach. The organization, founded in 1944, serves more than 100,000 member families in 47 chapters. For more information, please visit www.scfb.org.
Back to Newsroom