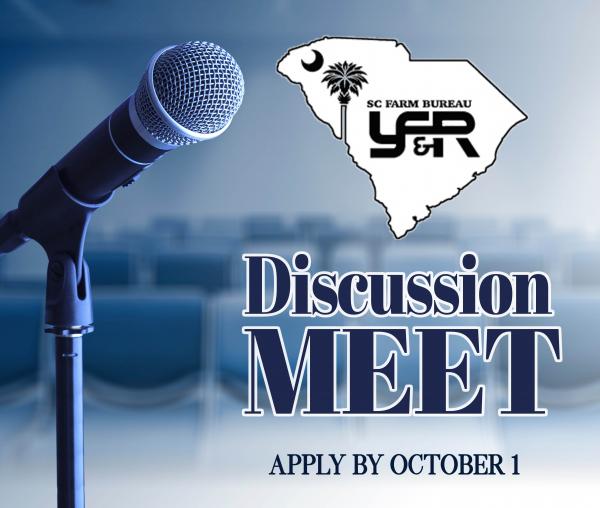 Who? 
SCFB Members 18-35 who have an interest in and knowledge of agricultural issues. For productive thinkers, problem solvers, agricultural enthusiasts.
What? 
The SCFB YF&R Discussion Meet is an annual competitive leadership development opportunity for YF&R members who take interest in discussing pressing agricultural issues. The Discussion Meet recognizes individuals for their public speaking skills, group problem-solving abilities and knowledge of current agricultural issues. The competition is designed to simulate a committee meeting and/or the Farm Bureau policy development process where discussion and active participation are expected from each participant.
Competitors are evaluated on their exchange of ideas and information on a pre-determined topic. Successful participants are productive thinkers and assist the group in creating ways to implement the solutions discussed and highlight Farm Bureau's involvement in those actions/steps.
Win a Golf Cart! 
The winner will receive:
An EZ-GO Golf Cart provided in part by Garrett's Golf Cars & Specialty Vehicles
A voucher for up to $500 in STIHL merchandise provided by STIHL
In addition to the above, the winner will also represent South Carolina Farm Bureau at the following (depending on event status):
The American Farm Bureau FUSION Conference
The American Farm Bureau Annual Meeting
The FINAL FOUR will receive:
All participants will receive:
All participants who do not advance to the Final Four will receive a $75 VISA gift card.
Contest Format

Participants prepare thoughtful responses to questions that are provided in advance. On the day of the competition, participants take part in one round of discussion with 4-6 competitors before judges and an audience. Four participants will advance to the final round.
Participants are judged on Problem Solving, Analysis of Topic, Cooperative Attitude, Delivery, Opening Statement and Closing Statement.
The Discussion Meet is intended to simulate a committee meeting and building consensus and problem solving is very important to this competition.
The winner and runner up will be determined by the judges after the final round. All competitors will be recognized during the Awards Program on Friday evening at the SCFB Annual Convention.
2022 Discussion Meet Questions and Eligibility Information
Discussion Meet Best Practices
Online Application Instructions 
Applications due October 1, 2022.  
Discussion Meet Video Guides
Discussion Meet Training Opportunities with AFBF 
Tuesday, September 13th at 8:00 p.m. Eastern - Discussion Meet Overview. Register here. 
Tuesday, September 20th at 8:00 p.m. Eastern - Deep Dive Into the Discussion Meet Questions. Register here. 
Thursday, October 6th at 8:00 p.m. Eastern - Deep Dive Into the Discussion Meet Questions. Register here. 
2021 Discussion Meet Winner -
Brandon Myers, Lexington County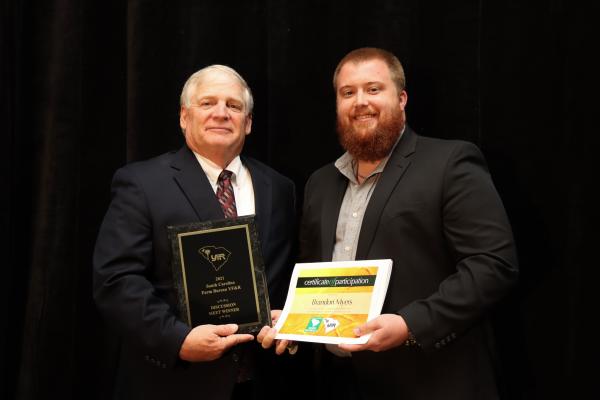 Discussion Meet prizes are sponsored in part by the SC Farm Bureau Federation and Southern Farm Bureau Life Insurance Company.