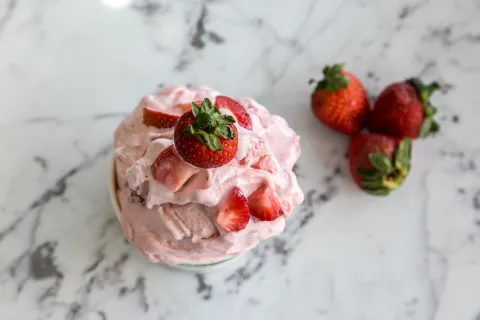 It's the first day of summer, and what better way to celebrate than with a frosty treat! Did you know it takes about 3 gallons of milk to make one gallon of ice cream? 
Use Certified SC Grown strawberries in this recipe to make it extra special and sweet.
From The Golden Taste of SC
1- 6 oz. package strawberry gelatin
2 c sugar
4- 14 oz. cans evaporated milk, divided
4 eggs beaten
1 qt half and half
1 qt strawberries, stemmed and mashed
1 T vanilla
Combine gelatin and sugar in 2-quart saucepan. Add 2 can evaporated milk. Cook over medium heat, stirring constantly, until gelatin is dissolved. Gradually add hot mixture to eggs, blending well. Add 2 can evaporated milk and half and half. Stir in strawberries and vanilla, mixing well. Pour into canister of ice cream churn. Process according to manufacturer's directions.
Yield: 4 quarts
Recipe submitted by Marjorie Mills, Saluda County
Back to Newsroom