Special to the News & Reporter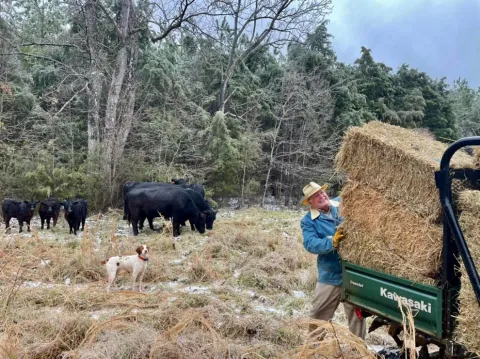 With Memorial Day in sight, South Carolinians are gearing up for another summer full of family cookouts —after all, nothing quite says summer like the smell of hamburgers and steaks cooking on the grill. That's what makes May the perfect time to celebrate National Beef Month and reflect on the importance of a strong, thriving agricultural sector in our region, state, and across America.
As a State Representative, as well as a member of both the South Carolina Cattlemen's Association and the National Cattlemen's Beef Association, I'm immensely proud of the dedicated cattlemen and women working across the state to keep this critical economic sector strong. Their hard work helps provide South Carolina and our entire country with fresh, Grade-A beef to feed our families and communities, strengthening the food supply chain and contributing to America's food security.
I worked to pass legislation that protects South Carolina cattle producers by ensuring that alternative and test tube-grown meat products cannot be advertised or marketed as meat in the Palmetto State. Not only does such labeling transparency improve the business climate for our cattle producers, it also ensures that consumers are well-informed and aware of the products they are purchasing at the store—where they came from and how they were actually produced.
Notably, the cattle industry is big business for South Carolina, bringing in an estimated $133 million to the state's economy annually. In fact, agribusiness represents the state's single-largest industry, accounting for about 247,000 jobs and over $46 billion in annual economic impact. That is why it is critical for lawmakers at both the state and federal levels to continue to find more ways to support local cattlemen and women as well as all agricultural producers.
One way we can do that is by continuing to involve farmers, ranchers, and cattle producers in the policy discussions that impact their future success, including ongoing debates on protecting our natural resources. It only makes sense to bring the agricultural community to the table to help shape and enact long-lasting, climate-smart solutions. They are the ones committed to being good stewards of the land, after all, and they have the most at stake in the fight to protect our environment.
To empower our nation's farmers and cattle producers, Congress should move forward on policies like the Growing Climate Solutions Act. Co-sponsored by Senator Lindsey Graham and Senator Tim Scott, this legislation would help reduce emissions while strengthening the economic outlook for the agricultural community, instead of threatening it. It would help agricultural producers adopt carbon-reducing farming techniques in exchange for carbon credits that they could then sell to certified organizations, lowering our carbon output while providing cattlemen and women a new, steady stream of revenue.
As South Carolinians take to their grills this summer, lawmakers from Columbia to the District of Columbia should continue to support America's cattlemen and women by engaging them in the policy debates that impact their industry. I know I'll keep doing my part at the State House. 
Read the original article published in The News & Reporter here.
Back to Newsroom