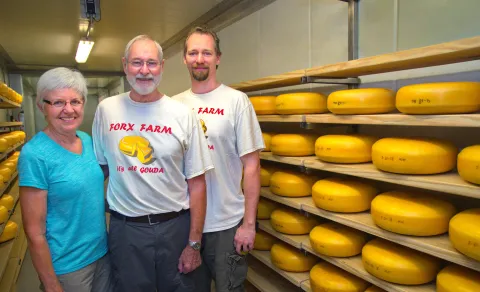 From "Say Cheese"
SC Farmer, Fall 2018 
SOUTH CAROLINA'S CHEESE-MAKING CULTURE IS CREATING A REMARKABLE ARRAY OF TASTY PRODUCTS.
Ron and Tammy Lubsen make artisan Gouda cheese at Forx Farm in Anderson County, a lush green property they named for Devil's Forks Creek, which runs nearby. Some other keepers of sheep and goats in the Upstate make goat cheese and yogurt, but making Gouda is a trade not seen too often in these parts. So the Lubsens' cheeses are attracting attention – so much so that they are in the beginning stages of adding Brie, Colby and a mustard cheese to their line.  
While Ron Lubsen would like to have traded his Dutch accent for a Southern drawl, it still hasn't happened after nearly 40 years in the United States. As a result, before he gets to talk about his family's passions, it's often necessary to talk first about the past in response to the standard question, "Y'all aren't from around here, are you?"
Ron is from the Netherlands, a rural area in Holland near Alkmaar. The next question is usually how his family got here from there, and the answer is, "The long way." They traveled widely because of his work as an engineer with a company that manufactured greenhouses and prefabricated homes. They lived in Ghana, Saudi Arabia and Iran, where Lubsen was working when the hostage crisis at the American embassy erupted into a long nightmare for the Carter presidency and a tense time for outsiders doing business in Iran. Lubsen's company was kicked out in 1980 and he was moved to Florida, then in 1992 to Anderson.
When the company eventually went bankrupt and closed, the Lubsens evaluated their lives as parents of four children raised in this country, three of whom live in the Greenville-Anderson area (the fourth is in Maine.)  This had become home.
And so an American business was born: a glass-bending company. You may not have heard of Desman Corp., but you know its work if you have selected doughnuts from behind curved glass counters at Krispy Kreme. Lubsen found the farm property when he couldn't get a manufacturing space with good parking downtown.
Now, he and Tammy are glad to have 60-plus acres where they can look out the window and see lush green plants on every side. It's a place for muscadine vines, fig trees and beehives. They tend their beehives, have chickens and gather the honey and eggs, which they sell along with their cheese and Tammy's jellies and jams at local markets. During cold weather, they also host an indoor market with other vendors on their property.
With the glass operation up and running under management of the Lubsens' son, Don, the couple considered what to do with their own time. Ron briefly considered a new motorcycle, fondly recalling one from his younger days.
"I had this vision of riding the motorcycle," he said. "I was up front, and she was behind me holding on."
The reality check set in. He was happy and smiling and she was not. "We needed something we could be happy doing together," he said. "Equals."
Something more than the beekeeping they planned to continue as a hobby. They wanted something both fulfilling and lucrative. Not exactly retirement and not exactly drudgery either.
They decided on making cheese because good Gouda was something from the Netherlands they had missed. The cheese they purchased from various places never seemed the same as what they grown up with and loved.
Making artisan cheese wasn't something a person could just wake up and do one day, however. Ron took time to learn the process, including some time back in Holland, where he started writing a book on it – not one for the masses but more than 200 pages of notes on what to do and how to do it, precise temperatures and times. There was also the task of preparing a place in the building they already owned and developing local sources for raw milk – lots of milk, mainly from the Happy Cow Creamery in Pelzer, Milky Way Farm in Starr and Hickory Hill dairy farm in Edgefield.
 They created a space for making cheese, forming and pressing the wheels and labeling them, and a separate area for aging. Off to the side of the building, they've attached an ocean shipping container, adapted into an aging room for wheels of cheese spread along wooden shelves in a controlled temperature and humidity environment.
"We started small, not too sure of ourselves and not too sure we were doing everything right," Lubsen says, pointing to a six-gallon container in a corner. The first batch seemed okay. They let it age a couple of months before putting it to the taste test with friends and neighbors. Next they went to a 14-gallon container.
"It was a big step to get from 14 gallons to 400," he recalled with a wry grin. "We tried 60, 80, 100, and then we decided to go for it." Now they churn about 700 pounds a cheese each month, most of it in a 400-gallon stainless steel vat the size of a hot tub, giving rise to some fleeting thoughts about what it might be used for if the cheese business failed.
The vat is equipped with stirrers that in one direction blend the contents and in the other, cut through the mix as it thickens. Hot water is pumped into a space between the outside of the vat and the interior. As it mixes, the machine separates curds from whey. Curds become cheese. Whey is a watery liquid that is good for feeing livestock. Pigs love it.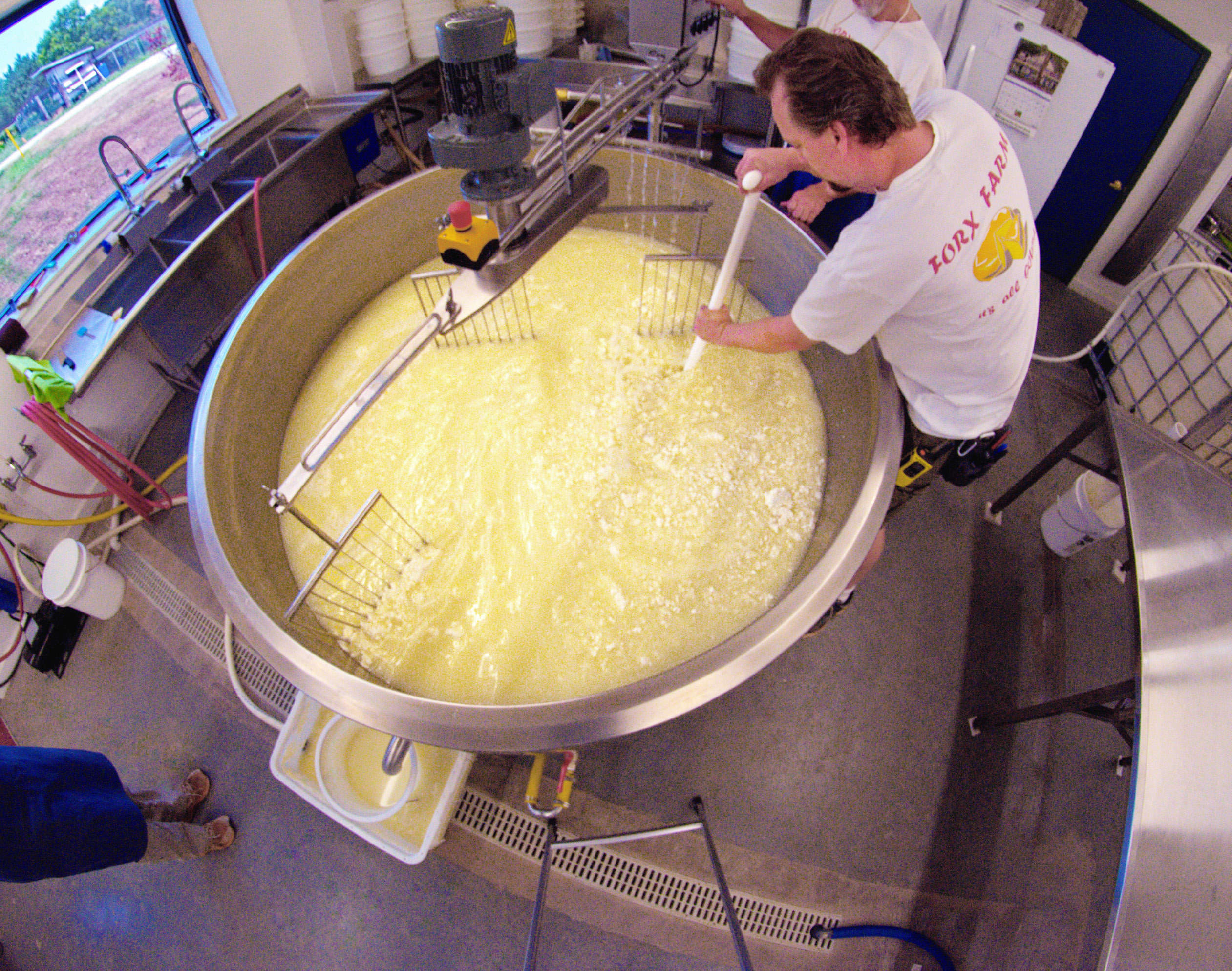 The process is tedious. It takes hours for the mixing and coagulation phase to finish and the cheese is ready to go into forms for another several hours, generally overnight. This forms wheels of cheese that can be easily handled. They get edible labels and are marked with the date of production, a serial number and the source of milk they started from.  
Getting from start to finish is not easy and it leaves a mess to clean up before starting over. Making cheese with raw milk is harder than with pasteurized processed milk, but the result is a more sophisticated texture and taste. Raw milk is complex and makes the cheese both sweet and salty with crystals of flavor throughout. The cheese is dense and retains the raw milk's natural bacteria and flora. Even so, not every wheel of cheese from a single batch will taste the same. Cheese acquires its taste from a combination of cultures, temperature and time. It can be aged for months or years, according to Lubsen.  
 Aging takes a minimum of two weeks and some wheels of cheese sit on the shelves as long as two years. Aging determines how strong the cheese will be. Two weeks is mild and two years is extra sharp. Lined on the wooden shelves inside their 54-degree, humidity-controlled cooling space, some wheels look light and others dark. That's an indicator of how long they've been there, which can be confirmed by the labels that designate mild, two to four months; medium, six or seven months; sharp, after 12 months; extra sharp, after 24. Some are smoked. Some have a flecked or speckled look. Those are specialty Gouda, flavored with kale, cumin, herbs de Provence, Italian spice mix or bacon.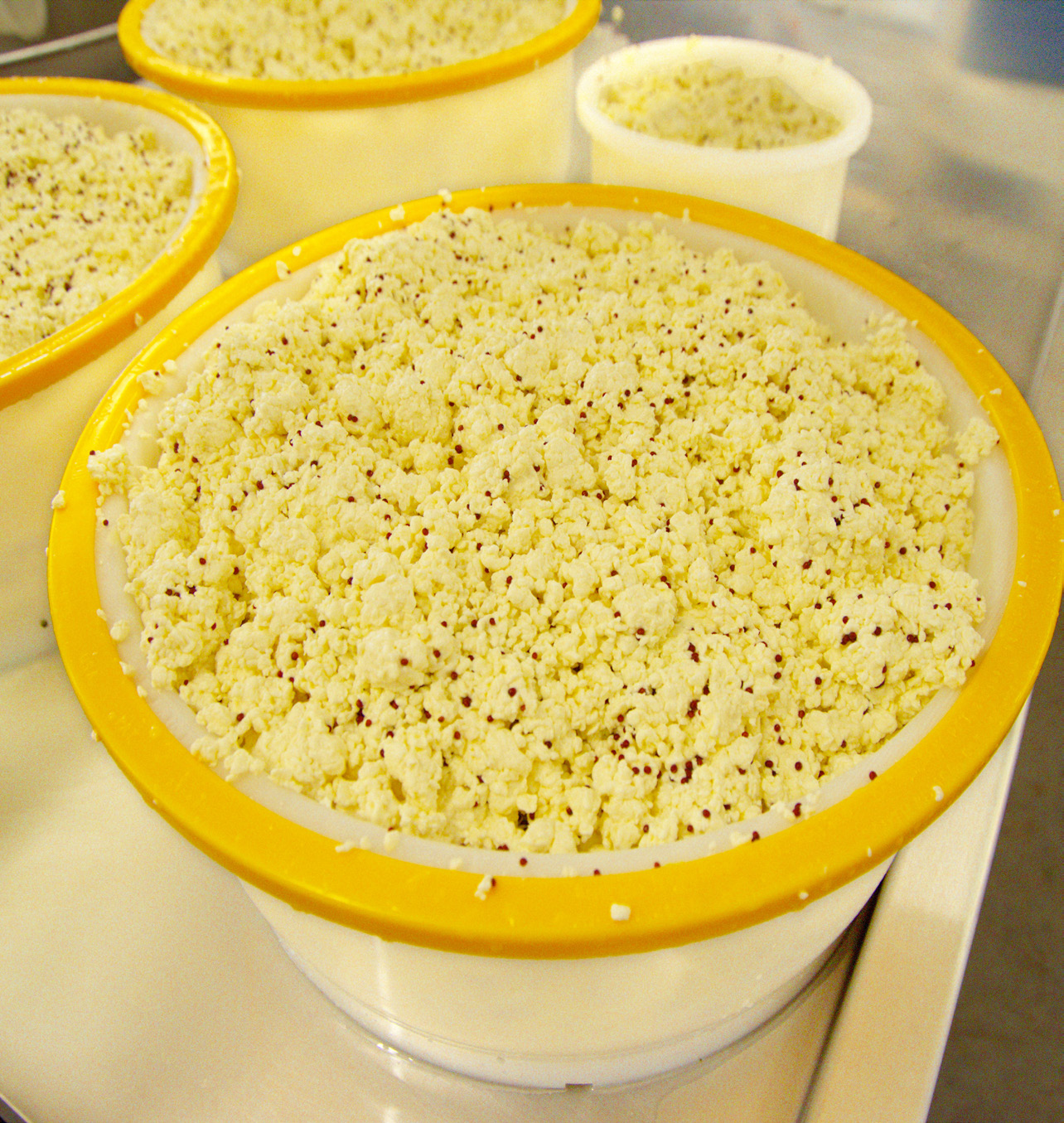 Washing all the plastic molds alone takes hours after a batch is finished, Lubsen said. "If you don't like cleaning up and washing dishes, don't make cheese. It's that simple."
And there are records to keep. Careful logs that document each ingredient source, each batch, each wheel, each process.
Ron Lubsen is amused that anyone should find it odd that Gouda cheese, a Netherlands signature dish, is made in South Carolina. Other people ask why. He asks why not. After all, Bleu cheese is French, but a wonderful rendition of it is made at Clemson University, only 20 miles from Forx Farms, using one of the same sources of raw milk that the Lubsens use. And like Ron Lubsen, the Clemson folks know their accents. They call their cheese "blue."
Back to Newsroom