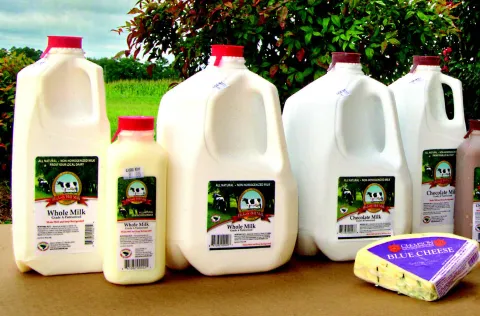 From "Say Cheese"
SC Farmer, Fall 2018 
SOUTH CAROLINA'S CHEESE-MAKING CULTURE IS CREATING A REMARKABLE ARRAY OF TASTY PRODUCTS.
Though Bleu cheese is French, a wonderful rendition of it is made at Clemson University, only 20 miles from Forx Farms, using one of the same sources of raw milk that the Lubsens use. And like Ron Lubsen, the Clemson folks know their accents. They call their cheese "blue."
Hickory Hill Farm in Edgefield has a double connection to Clemson Blue Cheese.  The dairy farm is sole supplier of milk for the icon cheese brand and also for Clemson's Best Ice Cream, a new product made from ingredients grown and raised on South Carolina farms by Clemson graduates. Watson Dorn, head of the third generation to run the family farm since 1764, also handles management, distribution and production of Clemson's icon cheese and new ice cream.

He's a Clemson graduate, Class of '84, and glad to be involved with the products that benefit the school and especially its scholarship programs. One of his roles is to get the products on the shelves at more sales outlets. He sees it from both ends – the beginning in the fields where cattle graze, and the dairy barn where they're milked, down to the point of sale.  
Dorn likes to tell people it can get boring at Hickory Hill Farm.
 "There's not much to do from ten at night until two in the morning." That's about when the cows start calling, more than 200 of them ready to be milked. For the cows, it's a sense of urgency. For Dorn, it's also a point of pride.
From cow to container, it all happens there on the farm, and when Hickory Hill bottles milk, it's bottling nostalgia with cream rising to the top. The milk is lightly pasteurized by a low-heat process that keeps the fat molecules intact. It is not homogenized, which would break up those molecules and distribute them throughout the milk. It reminds lots of folks of their childhood. And it's good.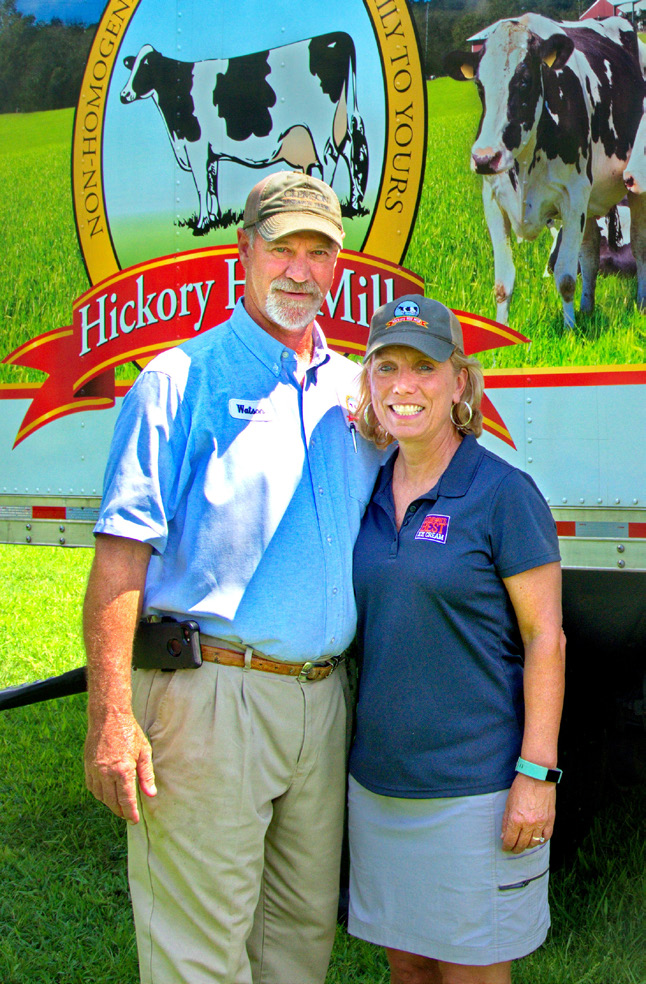 Clemson Blue Cheese is an artisan cheese, made the old-fashioned way, 240 pounds at a time in 288-gallon vats, then salted, waxed and aged for six months. The process is supervised by Master Cheese Maker Anthony Pounders, who scrapes and packages the cheese by hand.
When Dorn was on campus, Clemson Blue Cheese was already a legend and a legacy product. It started as a research project in 1940 when a Clemson dairy professor wondered if blue mold cheese could be aged naturally in the cool interior of an abandoned railroad tunnel the same as Roquefort-style bleu cheese is cured in caves in France. The question didn't pop up out of the blue. There was such a tunnel in Walhalla, 30 miles from Clemson, abandoned mid-construction when the Civil War broke out. Conditions there appeared ideal for aging cheese. The experiment involved making cheese on campus and curing it in the tunnel. Then World War II interrupted production.  
From 1953 to 1956, except in summer, blue cheese made from milk produced by the campus herd was cured in the tunnel, as much as 2,500 pounds of cheese at a time, until a characteristic blue streak developed, making the product officially blue cheese. This continued until Newman Hall was built on campus with air-conditioned cheese-ripening rooms designed to duplicate the tunnel.
At Clemson, Dorn didn't learn quite all the skills he's called to use on the University's behalf now. He said it took marketing his own products to realize that deadlines in the retail industry determine way ahead of time what will be in the diary coolers and freezers months down the road. That's just one of the quirks that come after planting the seed and making it grow – or, in his case, helping to birth the calf, creating the right pasture lands and making the best milk develop in healthy cows.
The expansion of a cheese-making culture in South Carolina is a bonus for dairy farmers, Dorn said. It's a perspective lots of people don't think about. Milk is more than milk. Someday it might be cheese. And that's something to smile about.
Find Hickory Hill Milk near you!
Click here to purchase Clemson Blue Cheese
Back to Newsroom