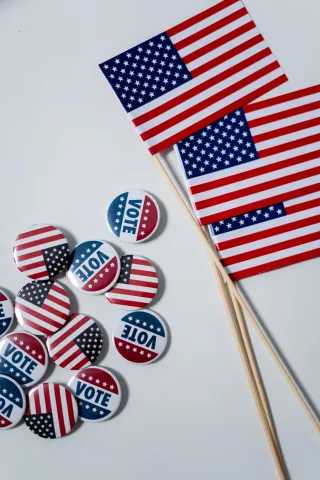 Today is National Voter Registration Day, and we want to make sure you're ready. Remember that every issue from road funding to environmental policies affect agriculture, so it's important to have your voice heard and your vote counted.
Here's everything you need to know about registering and voting absentee. 
You can register until October 3 to be eligible to vote in the 2020 election.
Register to Vote
South Carolina offers online voter registration. You can register by mail to vote in South Carolina by printing a voter registration form, filling it out, and mailing it to your local election office. You can also register to vote in person if you prefer.
To register in South Carolina you must: 
be a United States citizen
be at least eighteen years old on or before the next election
be a resident of South Carolina in the county and precinct in which you are registering
not be under a court order declaring you mentally incompetent
not be confined in any public prison resulting from a conviction of a crime
*find more information on voting rights restoration here
Source: SC Election Commission
Absentee Voting
COVID-19 has caused concern for some about in-person voting, so on September 16, 2020, Governor McMaster signed into law that all voters are now qualified to vote absentee under the "State of Emergency" reason for the November 3, 2020 election. All voters can vote absentee in-person at their county voter registration office or request an application to vote absentee by mail. Absentee ballot applications must be received by county voter offices by 5 p.m. on Oct. 24 if sent by mail and by 5 p.m. on Oct. 30 if applications are received in person. Also, the law allows county offices to open the outer envelope of absentee ballots two days before Election Day and start counting the actual ballots starting at 7 a.m. on Nov. 3.
How to Vote Absentee In Person
Step 1: Visit your county voter registration office.
Step 2: Complete an application.
Step 3: Cast your ballot. 
In-person absentee voting opens no later than October 5.
You may vote absentee in person up until 5:00 p.m. on the day before the election.  Rules for photo ID required to vote at the polling place apply.
Additional in-person absentee locations are available in some counties for some elections. 
How to Vote Absentee By Mail
Step 1: Get your application. Call or email your county voter registration office.  You will be mailed an application.  
Step 2: Complete, sign and return the application to your county voter registration office as soon as possible by email, mail, fax, or personal delivery. 
Return your application at least two weeks before election day to provide time for receiving and returning your ballot by mail.
The deadline to return your application is 5:00 p.m. on the fourth day prior to the election. WARNING: Applying late puts your ballot at risk of not being returned by the deadline.
Step 3: Receive your absentee ballot in the mail. Voters who have applied early will be mailed their absentee ballot approximately 30 days before the election.
Step 4: Vote and return the ballot to your county voter registration office either by mail or personal delivery. Place the ballot in the "ballot here-in" envelope and place the "ballot here-in" envelope in the return envelope. Be sure to sign the voter's oath and have your signature witnessed. Anyone can witness your signature. A notary is not necessary.  
Ballots must be received by the county voter registration office by 7:00 p.m. on election day.
Ballots returned by mail should be mailed no later than one week prior to election day to help ensure timely delivery.
For more information, please visit www.scvotes.gov.
Back to Newsroom