The Dairy Alliance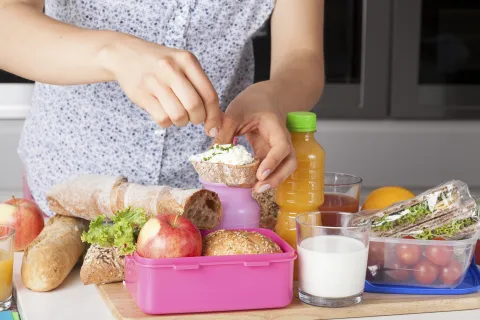 Every time you choose a meal or snack, you are "personalizing" your plate. We're all different, and our choices are shaped by many factors, not only taste preference, but more complex factors, too, like access to food, culture and tradition. There is no one size fits all approach to fitness and health.
For example, if you're lactose intolerant, you may be avoiding dairy foods, but dairy provides essential  nutrients, such as calcium, potassium and vitamin D, that people of all ages need to grow and maintain stronger bodies and minds. If you're lactose intolerant, personalize your plate by choosing aged cheeses, like cheddar or Parmesan, which contain almost no lactose, cultured dairy foods, like yogurt or kefir, which contain beneficial bacteria that help you digest lactose, or lactose-free milk-- real milk, minus the lactose.
Plant-based is a popular way to personalize your plate right now, and as Registered Dietitian, I am thrilled that people are wanting to include more fruits, vegetables and whole grains in their diets. In fact, the Dietary Guidelines for Americans points out that many Americans fall short when it comes to consuming these foods.
Eating the MyPlate way, based on the 2020 Dietary Guidelines, can help guide us on how to fill our plates to make sure every bite and sip counts. Fill half your plate with fruits and vegetables, a quarter with lean protein, a quarter whole grains and a serving of dairy. Dairy is important to add to a plant-based diet, because not only does it provide high-quality protein important for flexitarians and vegetarians who may be limiting their meat intake, but milk adds 3 nutrients lacking in American diets – calcium, vitamin D and potassium. Combining plant and dairy foods makes a superfood power couple.
In addition to our diets, what our children eat is vital to lay the groundwork for health for the rest of their life. Because most of the bone building years occur in childhood and adolescence, what is on our children's plates and in their cups is important. Calcium and vitamin D are important bone-building nutrients, but according to the Dietary Guidelines, beginning as soon as the second year of life, some children are not getting enough. Ensuring your child is getting the recommended serving of dairy based on their age, like 3 servings per day for children 9 years and older, is an easy way to provide calcium and vitamin D for building healthy bones in those crucial years.And remember involving your kids in cooking is a great way to teach them how to personalize their own plates.
Everyone is different, and a lot of factors affect our food choices. Work with a Registered Dietitian to get guidance when personalizing your own plate and visit the Dairy Alliance for more on dairy nutrition and delicious recipes.
Back to Newsroom