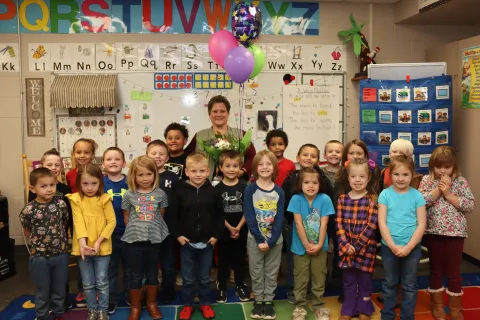 Lisa Durham, a kindergarten teacher at Westminster Elementary was selected as one of the 2022 National Excellence in Teaching about Agriculture Award winners. Seven teachers and a teaching team were honored as this year's recipients.
The National Agriculture in the Classroom Organization (NAITCO), U.S. Department of Agriculture's National Institute of Food and Agriculture (USDA-NIFA) and Farm Credit partner each year to honor teachers in pre-kindergarten through 12th grade (Pre-K-12) from around the country for the innovative ways they use agricultural concepts to teach reading, writing, math, science, social studies, STEM, STEAM and more.

Durham introduces agricultural literacy to her students using a classroom tower garden. Through this project the students are able to observe the life cycle of plants and try the vegetables they grow. She also hosts an Ag Science night at school and other agricultural field trips in addition to helping organize ag in the classroom professional development for other teachers.
"Lisa is very deserving of this award and recognition," said SC AITC Director Tracy Miskelly. "The mission of the Ag in the Classroom program is to teach students where their food comes from and Lisa is implementing new and engaging techniques to help students appreciate the food and fiber industry."
Durham will be honored at the 2022 National Agriculture in the Classroom Conference "Empire State of Agriculture" June 28-July 1 held in Saratoga Springs, NY.
Back to Newsroom