Farm & Career Mentors
Grow your agricultural knowledge and experience with these ag professionals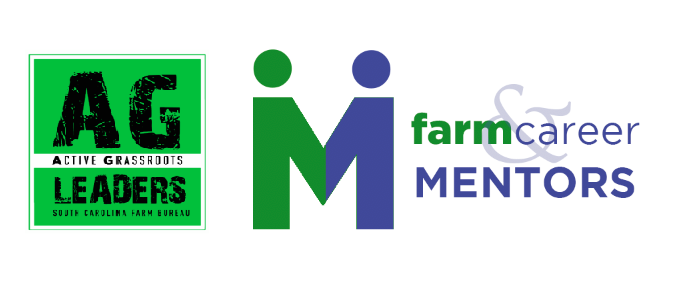 What?
The AG Leaders Farm & Career Mentor Team is a group of experienced individuals available to connect with Farm Bureau youth, collegiate students and Young Farmers & Ranchers to support their growth and encourage their success by sharing real-world knowledge and experiences.  
Why participate?
Work with a mentor who relates to your specific interests
Set your own pace
Grow your network
Learn from the farm and/or career experiences of others
Inquire about involvement in Farm Bureau
Build lasting relationships
How?
Review the profiles of available mentors 
Choose who you would like to be matched with
Fill out the "Connect to a Mentor" form
Receive an email or text from SCFB staff connecting you with your match
Personally connect with your mentor
Get Involved!
Learn more about the mentor program
SC Farm Bureau's role in the Farm & Career Mentor program is to facilitate connections between those seeking a mentor and those willing to share their life experiences. Mentors' thoughts & ideas are independent of SC Farm Bureau and do not directly reflect the beliefs and/or policy of SC Farm Bureau.
This program is intended to facilitate connections over phone, email, text, or virtual meeting platforms. If mentors/mentees choose to meet in person, it is an independent decision and activity unrelated to this program and SC Farm Bureau is not liable.
Aged out of YF&R?
Check out our AG Leaders Program
Learn More