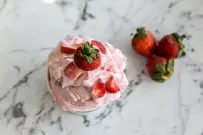 It's the first day of summer, and what better way to celebrate than with a frosty treat! Did you know it takes about 3 gallons of milk to make one gallon of ice cream? 
Use Certified SC Grown strawberries in this recipe to make it extra special and sweet.
From The Golden Taste of SC
1- 6 oz. package strawberry...