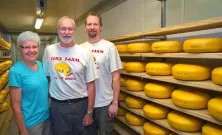 From "Say Cheese"
SC Farmer, Fall 2018 
SOUTH CAROLINA'S CHEESE-MAKING CULTURE IS CREATING A REMARKABLE ARRAY OF TASTY PRODUCTS.
Ron and Tammy Lubsen make artisan Gouda cheese at Forx Farm in Anderson County, a lush green property they named for Devil's Forks Creek, which runs nearby. Some other keepers of sheep...